Bible Studies
You're invited to take this opportunity to dig deeper into scripture and grow as a disciple, devoted and obedient to God's Word.
Fall 2020 Bible Studies

Lord's Prayer Bible Study | 8-9pm | Zoom (August 24th-September 27th) & On-Campus (September 13th-27th)
Led by Pastor Brian. Following the sermon series in Worship, Pastor Brian will dive into the petitions of the Lord's Prayer and how they impact our life as disciples of Jesus. The disciples were asking Jesus how to pray, as was the custom of disciples to their rabbi during this time in history. What Jesus provides to the disciples then, and to us today, is a prayer that transcends our experience. Each petition can stand on its own in our life of prayer or lead us into deeper experiences of seeking Christ first in all things. This 6-week sermon series will dive into the petitions of the Lord's Prayer, how we can utilized this prayer in our life of discipleship, and challenge us to grow as Jesus's disciples while discipling others in their walk of faith too.
Click here to register to receive the Zoom meeting information.
Growing in Grace as disciples | 7-8pM | zoom (beginning September 9th)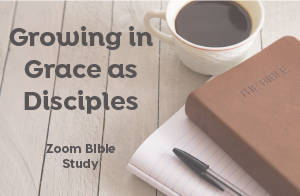 Led by Richard Zalesak. In the New Testament we are repeatedly urged to seek maturity in the faith. Once we become Christians, how do we grow as believers? In this four-session class, we will learn more about discipleship or being an intentional follower and student of Christ. We will learn to put into practice the life habits or disciplines that have been most helpful to Christians throughout the centuries to grow in grace.

Those who have completed the Essentials New Member Class are especially invited to attend.
Click here to contact Richard to receive the Zoom meeting information
bible stories for adults | ongoing via email
Led by Kurt Rosenhagen. Bible Stories for Adults is your opportunity to become reacquainted with the Biblical characters and events that Christians have come to love. There is much we can learn about God as He reveals Himself through His-Story. For more information please contact Kurt Rosenhagen.Click here to download the lessons through the summer. Click here to download the lessons starting in September.
paul's Prison letters | 7:45-8:30am | ongoing via Zoom
Led by Gary Himmler. Philippians, Colossians and Philemon: A careful look at Paul's letters from prison.

Paul wrote these letters along with Ephesians while in prison facing possible death, but their passion and energy are undimmed. They reveal Paul's longing to see young churches grow in faith and understanding, rooted in Jesus himself, and to see this faith worked out in practice. Hearing it afresh from the pen of the Apostle, we will gain a greater understanding of God's purpose and how believers are to fulfill it in their lives. We will also learn about standing firm in the fact of adversity while exhibiting humility and unity. Finally, we will further cultivate the qualities of Christian joy and faithful moderation with Paul as our tutor. To request the Zoom login information, please contact Gary Himmler.
The Acts of the Holy Spirit | 11am | Zoom
Led by Keith Chuvala. The New Testament book commonly titled "Acts" or "The Acts of the Apostles", is a fascinating, instructive, and inspiring book. But it might be misnamed! It doesn't describe all of the actions of all of the Apostles, so it could be titled "Some of the Acts of a Subset of the Apostles", or perhaps "The Acts of Peter and Paul, with cameos by a few other Apostles". However, the Apostles aren't really the stars of the show. As the book reveals the tremendous power of God at work through His Gospel, perhaps the best title is "The Acts of the Holy Spirit". Join us as we read this book together, seeing how God established, blessed, and preserved His church, and discover how many issues faced by the first century church are still faced by the church today. To request the Zoom login information, please contact Keith Chuvala.
Psalms Men's Bible Study | Tuesdays | 7-8am | Zoom
(Beginning August 4th)
Led by our Ron Petri. This study will do one selected chapter from each of the different types of Psalms. These types are:

1. Individual Lament
2. Individual Praise
3. Community Lament and Praise
4. Penitential Psalms
5. Imprecatory Psalms
6. Liturgical Psalms
7. Messianic Psalms
8. Royal Psalms
9. Wisdom Psalms

Questions about Tuesday Morning Men's Bible Study or to request the Zoom login, contact Ron Petri.